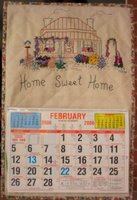 This is a calendar holder I made in 2003,
I got tired of the calendar falling on the floor all the time, so I designed this holder for it.
I taught this in my embroidery class just before Christmas that year.
It was so popular, after the initial lesson, the ladies all made a few calendar holders for Christmas gifts
Here is a close up of the embroidery design.
I haven't started anything new just yet as I'm trying to finish off a quilt I started last year.
I think the hardest part of quilting for me is the machine quilting.
Trying to get all that bulk, with all those pins in it under the machine is a pain in the you know what.
I'll post a picture of it when it's done..